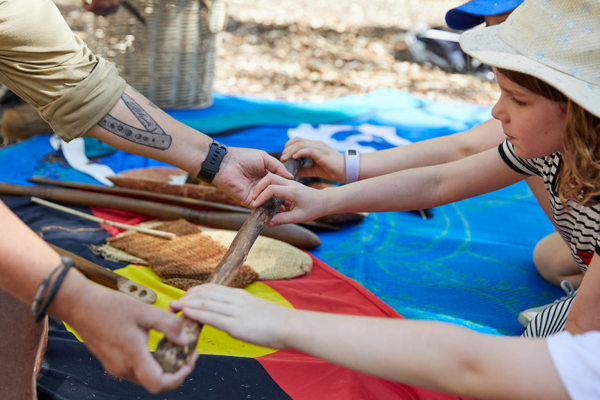 Aboriginal Knowledge
Immerse yourself in Aboriginal culture as you learn about native bush foods and other plant uses. Get to know our Aboriginal and Torres Strait Islander staff and hear their stories and connection to country.
Explore Long Island with Jakobi
Join Aboriginal Programs Facilitator Jakobi for a special look at Long Island in Melbourne Gardens, and uncover some of the Aboriginal heritage and indigenous plants that grow here.
Reconciliation Week: Meet David
Meet Melbourne Gardens Horticulturist David John Jenkins, as he chats about his favourite species and collections at Melbourne Gardens, and the importance of Aboriginal and Torres Strait Island people's land practices.
Reconciliation Week: Meet Den
Get to know Aboriginal Heritage Guide Dennis Fisher as he speaks about his heritage, his role at the Gardens, teaching people and his love of the land.
Reconciliation Week: Meet Jakobi
Meet Aboriginal Programs Facilitator Jakobi as he chats about why he loves his job, and why Long Island is his favourite area of Melbourne Gardens.
Reconciliation Week: Meet Jaffa
Meet Janine Richardson (Jaffa), Aboriginal Learning Facilitator at Cranbourne Gardens and hear how she shares her knowledge of Aboriginal culture and history with students.
Australian Forest Walk with Kalkani
Join Aboriginal Programs Officer Kalkani Choolburra on the Australian Forest Walk and learn about the wealth of Indigenous plant uses. Discover edible berries, energy drinks, medicines and much more.