Discover Melbourne Gardens
About Melbourne Gardens
First established in 1846 on the land of the Kulin Nation, Melbourne Gardens is today a green oasis in the heart of Melbourne. Throughout the 38 hectare site, you will discover over 31 collections of plants presented as a living work of art and making Melbourne Gardens one of the world's most beautiful botanic gardens.  For 175 years, Melbourne Gardens has been the city's sanctuary and playground, a site for major cultural events and a place for individual memories and rich experiences.
Melbourne Gardens is also home to the National Herbarium of Victoria, which houses the internationally important State Botanical Collection, where key scientific research in botany, taxonomy, mycology and conservation takes place. In addition to the 8,000 plant species planted across the site, the Gardens are also the site of the historic Melbourne Observatory. The interconnected science, horticulture and public engagement programs at Melbourne Gardens all contribute to the health of the community and natural environment.
Explore the Living Collections
Learn more about the plant and tree collections that make up the Gardens and hear from the curators about their work.
Melbourne Gardens Living Collections
The Ian Potter Foundation Children's Garden
The children's garden has reopened as of Sunday, 4 September 2022.
It will be closing early at 4pm on 28 October and between 3 - 13 November.
It will be open Wed-Sun (daily during school holidays) and between 10am until Gardens closure.
The Ian Potter Foundation Children's Garden, located at Melbourne Gardens, is a magical place for children to discover the world of plants. It is a tourism award-winning Children's Garden full of interesting and interactive places to play and explore.

When at the Meeting Place, children should bring their swimming gear and be prepared to squeal with delight as water spouts from the ground. On cooler days, the Wetland Area is a natural pond teeming with life and a place where children can experience insects and plants.

The Ruin Garden is a world of lush rainforest vegetation where children can scramble over and under rocks, dig in the sand mulch and construct cubby houses. The Bamboo Forest is a magical place defined by bamboo. When in the bamboo forest the qualities of light, sound and texture all change.

Children can get their hands dirty in the kitchen garden, an area that features interesting, unusual and common fruits, vegetables and herbs. The plant tunnels are a place where children can run, hide and play.
The Ian Potter Children's Garden closes between 11 July and 3 September for its annual winter rest.

The fountains in the Meeting Place do not operate on days below 25ºC and are turned off at 04:30 pm. 
Children's Garden rules and regulations
Children must be supervised at all times
You are responsible for keeping your children safe while in this garden.  The garden features deep water and rocky areas.  No swimming is allowed.
Children must be clothed at all times
And slip, slop, slap.  Please make sure your children have adequate sun protection while they play.  
The Ian Potter Foundation Children's Garden helps young people to learn about their flourishing community and healthy planet, sustained and enriched by plants. Please ensure you take only photos and leave only footprints so all children can experience the magic of this space.
Your dog might like children, but not all children like dogs so we ask that no dogs are brought into the Ian Potter Foundation Children's Garden.
This is a smoke, alcohol and glass-free garden.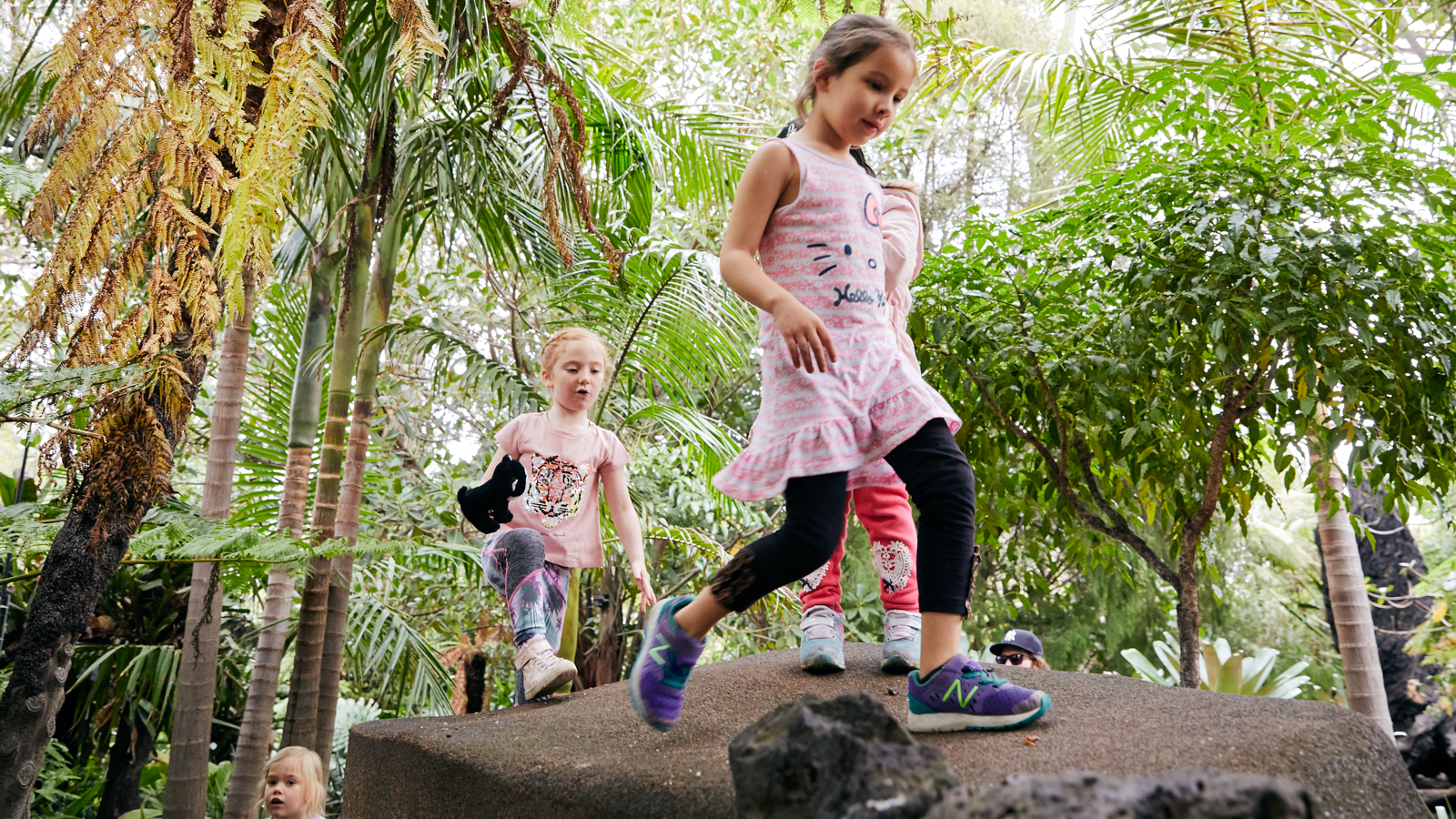 Discover Cranbourne Gardens