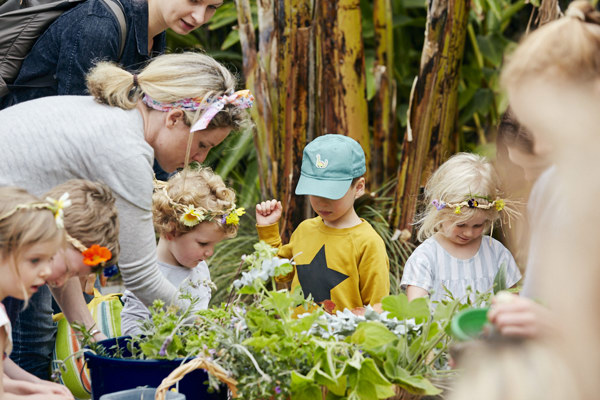 Lets Imagine, Play and Learn STEM Together
Conceptual PlayWorld Rainbow is Monash PlayLab's innovative model that foster children's curiosity about their world and help them learn STEM concept through a play-based approach. A PlayWorld can be inspired by a children's book or a fairy tale story. In the home setting or in the Botanic Garden, PlayWorld model is used to create an imaginary scenario where young children are invited to go on exploratory journeys. A challenge or problem is introduced that motivates the child to learn STEM concepts – all while playing.
This PlayWorld session is based on "Mrs McGregor's Garden", children will learn about the science of composting – what better place to connect with environmental concepts than in the Gardens. Families will be guided by a storyteller through a range of play experiences where children will help Peter Rabbit and other characters on an imaginary visit to Mrs McGregor's garden, sharing problem-solving thinking and becoming expert gardeners along the way.
Each session will be limited to 15 families. We will do three sessions with the families- an online storytelling session (using zoom), onsite session with families in the Royal Botanic Garden and then an online session to share experiences. We would like families to take part in all the three sessions. More information will be shared with families prior to the session.
Together the Royal Botanic Garden and Monash University offer this unique opportunity for children and their families a play-based STEM learning experience. At Monash University this work is led by Laureate Professor Marilyn Fleer designed to inspire young children, especially girls, to form concepts in STEM.
The sessions will be recorded for research purposes as part of Australia's first programmatic study on children's STEM concept formation at Monash University.
Click 'Find Tickets' to register, you will be asked to consent to participating in the study and then you will be able to fill in your details. Once registered you will receive more information about consenting to participate in the research.
Due to the limited number of bookings available we ask that you please advise if you no longer require your place and we will allocate it to another family.