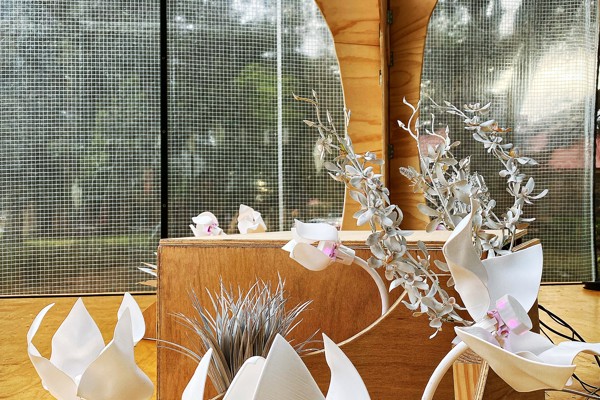 Numinous Bloom
by Born in a Taxi and A Million Things
Due to technical issues Numinous Bloom will not operate on Thu 26 January.
Numinous Bloom is an interactive mechanical garden for all ages featuring triggered animatronics, sound and light. An installation you can play, it uses technology to mimic the way plants communicate with each other through symbiotic relationships with fungi.
Striving to create beauty from waste, the flowers and habitat are 3D printed from recycled plastic, both complementing and contrasting their natural surroundings in Royal Botanic Gardens Melbourne. Create conversations with nature in this immersive installation that showcases the complexities and intricate patterns found in the natural world.
Come and experience new ways to communicate with nature, through the paradox of technology!
This installation will be presented in 'The CUBE', Born in a Taxi's freestanding transparent art space, which will be located on Oak Lawn for a strictly limited season.
Also in 'The CUBE' see Butterfly House – more details here.
CAST AND CREATIVES
Concept, Installation Design and Build
A Million Things
Production Manager
Jamie Turner
Sound Design
A Million Things
Produced by Born in a Taxi