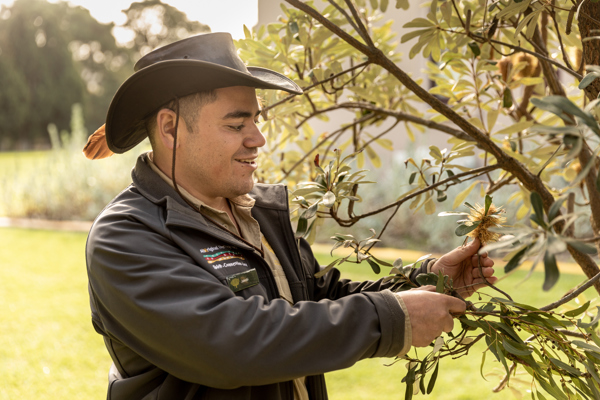 Open Nature: Hidden Histories of the Birrarung
Presented by Yarra Pools and Royal Botanic Gardens Victoria as part of Open Nature for Melbourne Design Week 2022, an initiative of the Victorian Government, Creative Victoria in collaboration with the NGV.
Join team members from Royal Botanic Gardens Melbourne and the healthy, swimmable river advocacy group, Yarra Pools, for this special guided walk along the Yarra Birrarung and through Melbourne Gardens.
Beginning at Gosch's Paddock on the north side of the river, the tour will cross Morell pedestrian bridge and head into the Gardens to explore the series of water courses that flow through the landscape. 
Traverse Long Island and the Lower Yarra Habitat and hear about the importance of the river and plants to the people of the Kulin Nation with Aboriginal Programs Facilitator Christopher Jakobi. Stephen Liu, Team Leader of Landscape Systems at Melbourne Gardens, will share how the Gardens has improved both water quality and efficiency through the Working Wetlands project. Part of Melbourne Design Week 2022, this walk considers the different approaches to water and land management and how we might work toward a healthier, swimmable river.