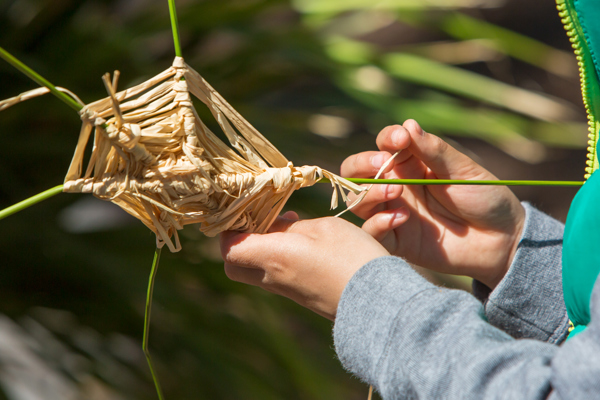 Weaving Workshop with Juanita M
Led by artists Juanita and Bec, this 3 hour workshop will introduce Aboriginal and Torres Strait Islander community members to the basics and first steps of weaving with natural materials collected from the Cranbourne Botanic Gardens.
Juanita is of Bardi descent and currently lives on Bunurong/Boonurong Land, she has spent many years connecting with local Aboriginal groups including participating in the RGB bush kid's playgroup, and has learned her weaving practice from women in the local community.
Bec is an Aboriginal woman and also lives on Bunurong/Boonurong land, she is a member of many community groups and attends many gatherings and events. Spending her professional life empowering and teaching Aboriginal youth. Bec has a lifetime of creativity and is always finding new ways to use unique and natural materials, she has spent much time connecting to the country and teaching many.   
Both women are strong in their identity and have found weaving to be a way to connect and learn.  Spending much time being creative together and empowering each other to learn new creative practices, push their creativity, and find new ways to connect with the earth.  Together they have witnessed many women connecting in the weaving circle and have found that weaving is not just about what you're making but more so, it is about the connection to others and the connection you find within yourself.